People celebrate Pillow Fight Day in New York!
In New York thousands of people armed with pillows have flocked to celebrate International Pillow Fight Day.
The citys Union Square was transformed into an arena for mass pillow fighting. It was New Yorks fifth annual pillow fight. Flash mob pillow fights take place in cities all across the world. Pillows were flying through the air as New Yorkers battled each other with fluffy weaponry. For some it is an annual ritual, and a good source of stress relief.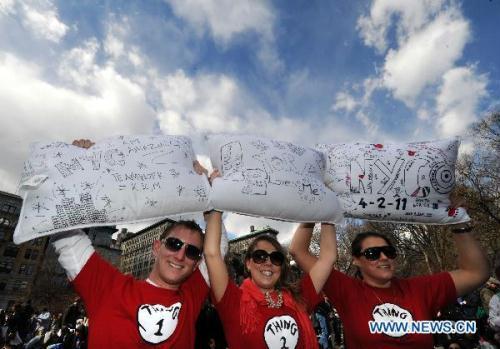 People participating in a pillow fight show their pillows at the Union Square in New
York, the United States, April 2, 2011. Crowds of revelers equipped with soft pillows
enjoyed Saturday a massive pillow fight during the International Pillow Fighting Day
here in New York. (Xinhua/Shen Hong)
Greta Cabrera, Pillow Fight Day Participant said "I usually try to come every single year.I am from New Jersey so there is really no time to go out and have some crazy fun time,always work,work.So its just another way to release stress and have fun in the city."
Matt Shaffer, Pillow Fight Day Participant said "Well you know,they say, keep your friends close and keep your enemies even closer.And were all really packed in here very well.So I think were enemies but sort of friendly enemy."
编辑: SN-5